Sidewalk Plants, second edition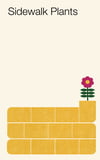 A guide for the plants you can find at your feet 。・:*˚:✧。
Sidewalk Plants presents an introduction to 75+ plants and herbs that grow in the cracks of the sidewalk, behind the dumpster or along the train tracks. For some, learn about how they contribute to your urban environment, their long and storied pasts, and how you might use them. For others, learn their names and discover them for yourself.
The book measures 5x8 inches and fits easily into your tote for bumble walks to discover your neighbourhood plants. This guide is printed in colour, featuring pictures of sidewalk plants in their natural urban environments. The book also features a brief section on local edible and medicinal fungi.
The guide also offers an introduction to responsible wildcrafting and herbal preparations. References include local herbalist, educator and editor of the guide, Monica Giacomin, as well as Gisèle Lamoureux, Robin Wall Kimmerer, Rosemary Gladstar, Beverly Gray, Susun Weed, and many more.
While many of the plants can be found across North America and around the world, the guide focuses on plants found in Eastern North America, in plant hardiness zones 4-7.
Full colour
Softcover
5x8 in
157 pages
Photography, writing and designed by Alyssa Beaton Tanguay
Edited by Monica Giacomin www.herbsontheside.com
Fungi section edited by Brodie Barrie www.forestfloormushrooms.com
Cover art and illustrations by eightyaday www.eightyaday.com
10% of the profits made here are returned to local organizations.
Live in Montreal? Use discount code NEIGHBOUR for free shipping.
**NB** If your address is too far from me we will have to arrange a drop off point, or I can refund your order :)